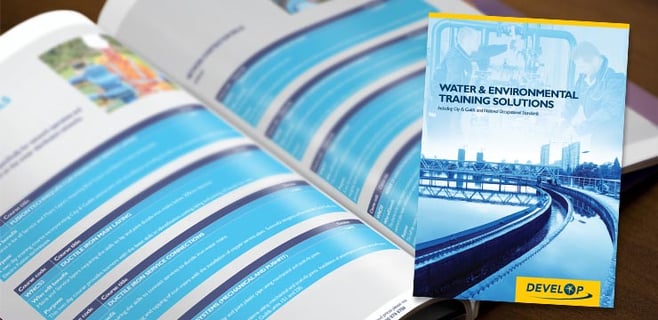 Water & Environmental Training Solutions
Develop Training Ltd (DTL) provides a comprehensive range of accredited water industry training courses in accordance with the latest water regulations. This covers water services, water treatment, waste water treatment and sewerage related processes, and accommodates all levels of expertise from Apprenticeships and NVQs – for new and current employees – to water engineering and management.
DTL's water and environmental training courses are directly linked to national qualifications with awarding bodies such as City & Guilds, giving employers confidence that their people have the correct skills and knowledge to work safely and effectively.
Build your essential skills
DTL's courses are designed to help water businesses and contractors build the essential skills needed in their workforce to guarantee the sustainability of water supply in the UK. The courses within this brochure cover many aspects of the industry and each course caters for individuals with a specific amount of knowledge; there are beginner courses suitable for entry level delegates through to the refresher courses for experienced professionals.
The training is delivered at purpose-built facilities that are based on real life working environments. This provides learners with a platform to enhance and grow their skills throughout the course of their career.
Download the brochure by

filling in your details opposite >>