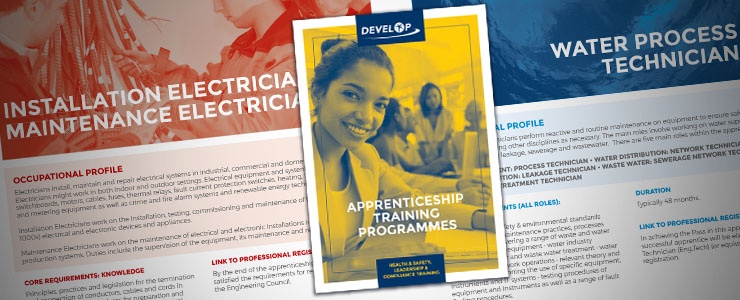 Download DTL's comprehensive portfolio of apprenticeship training programmes
DTL has been providing high quality, employer-led, apprenticeship training programmes for some of the UK's best known utilities and infrastructure companies for over a decade. As a prime contractor for the Education and Skills Funding Agency (ESFA), DTL is listed on the Registered for Apprenticeship Training Providers (RoATP) and at the forefront of delivering apprenticeship training for the Gas, Water, Telecommunications, Technical, Public Sector and Leadership & Management areas.

DTL's programmes involve real life, hands-on, experience and unique delivery options. Over the last decade DTL has successfully delivered more than 1,000 apprenticeship programmes, with retention and success rates both over 95%.

With the introduction of the Apprenticeship Levy, DTL has mapped its apprenticeship programmes to the newly defined standards, specialising in select key areas crucial to the continued business success of its clients. The Apprenticeship Training Programmes brochure offers course overviews for the following:
Dual Fuel Smart Meter Installation Engineer
Gas Network Team Leader
Gas Network Craftsperson
Gas Engineering
Maintenance & Operations Engineering Technician
Utilities Engineering Technician
Installation Electrician / Maintenance Electrician
Water Process Technician
Team Leader / Supervisor
Operations / Departmental Manager
Our friendly team is ready to assist you with any apprenticeship training requirements you may have - you can reach them on 0800 876 6708.
Download DTL's Apprenticeship Training Programmes brochure --->